Find out more about what DIY is planning and see the diffence we have made.
Also included on this page are some of our policies. DIY has a number of policies and procedures which help the organisation to run smoothly. Go to the Policies
DIY's Theory of Change
DIY's Theory of Change guides all our planning and development. It has been developed through extensive consultation and visioning sessions involving DIY members, staff,  Board & Advisory Group.
We have created it to help us evaluate how individual creative projects contribute to longer term impacts. We are using it as a framework for planning & evaluation. It was adopted in February 2022 & covers a three year time-span starting April 2022. It is a working document and will be reviewed at regular intervals.
Click to view Our Theory of Change
---
The Difference we make – some recent reports and evaluations of our work:
Summary Evaluation of DIY's 4 x 8 Inclusive Music Programme.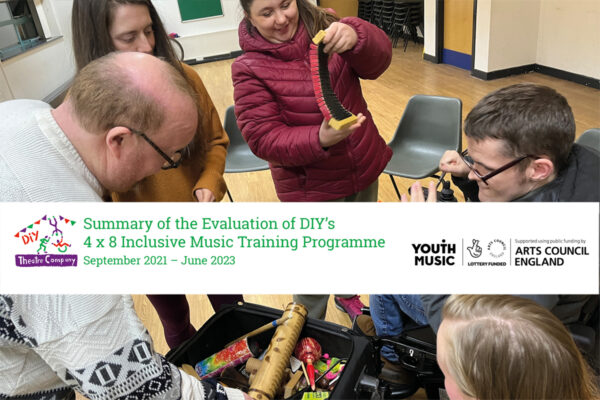 The central idea behind the 4 x 8 programme was that musicians interested in developing their inclusive practice would work collaboratively with DIY leaders with learning disabilities. Funded by Youth Music, the programme was completed in 2023.
Click to view the Summary Evaluation Report, or you can access the full report – Mapping the Journeys of DIY Young Leaders and Musicians.
Recent Impact Reports:
Earlier Impact Reports
An Evaluation of DIY's Passing the Baton Programme.
Passing the Baton was a 3 year DIY programme, funded by the National Lottery Community Fund, which ended in 2022.
View the Passing the Baton Programme evaluation in PDF format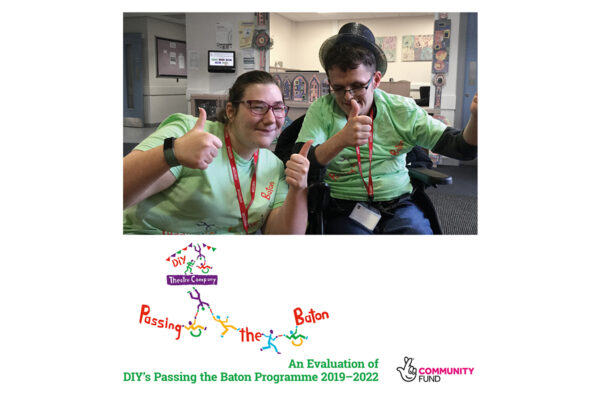 ---
Some of DIY's Policies and Procedures
Easy Read copies of our Policies:
Long versions of DIY's Policies