Who's who at DIY
Meet the team of individuals who make up DIY Theatre Company!
David Austin
DIY Actor
David loves music and listens to all different kinds of music. David is a founder member of DIY and has appeared in all our performances. He enjoys touring and visiting schools because he likes to work with the children.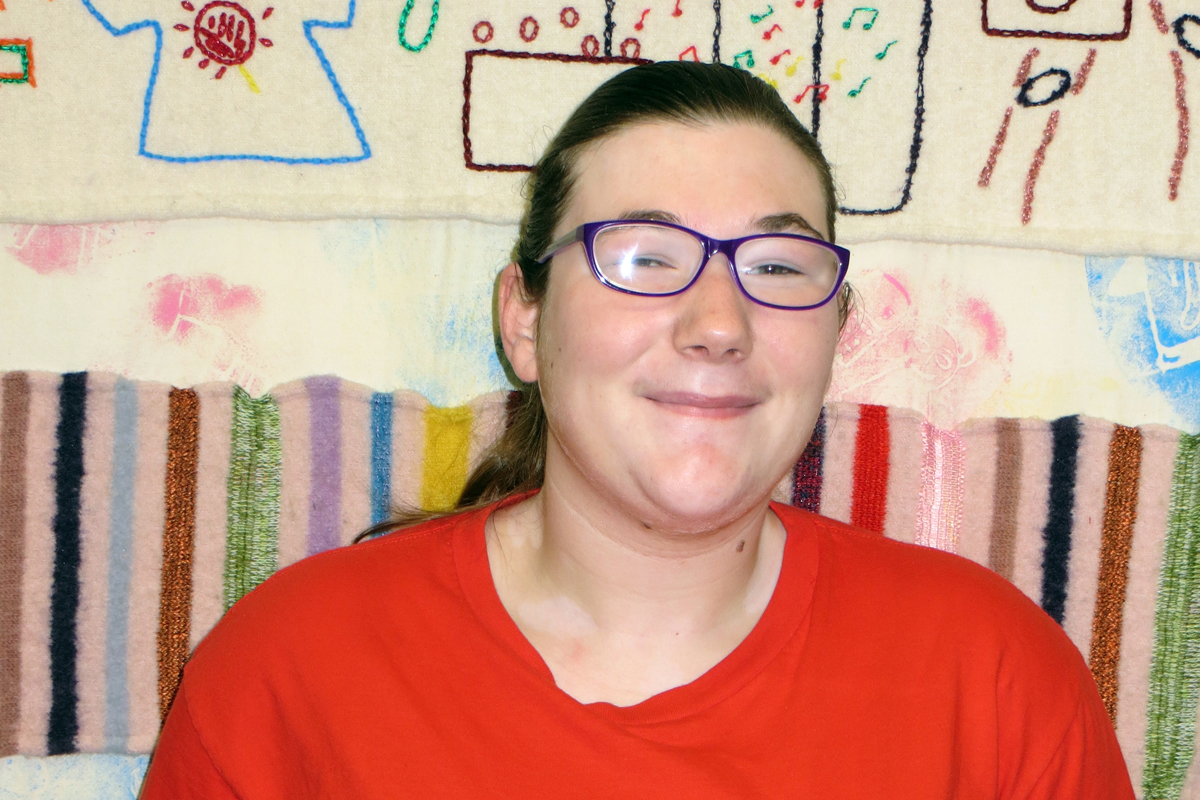 Amy Carter
DIY Actor, Young Leader, Member of the Friday Group and Young Person's Representative on our Board
Amy was told about DIY by a friend. DIY has helped her become more confident. She likes leading at DIY BUDS on a Thursday afternoon. Working during lockdown in 2020, Amy achieved a Gold Arts Award with our support.
Sharron Casey
DIY Actor and Core Company Representative on our Board
Sharron likes finding out different information on the computer. She found out about DIY on the internet. Sharron likes coming to DIY because she likes joining in and meeting new friends.
Angela Chadwick
DIY Actor, Member of the Friday Group
Angela enjoys playing bingo. Angela is a founder member of DIY. She has been with the company all the way through and still likes doing it. She says she's never going to stop! She likes representing us at meetings and telling the rest of the company about what has been happening at the meetings.
Becky Jolley
Member of the Friday Group
Becky is in the Friday Group and DIY BUDS. She loves singing, art and drama. She likes coming to DIY because she likes learning new things and meeting new people.
Joan Lavin
DIY Actor
Joan is a long standing member of DIY. Her favourite DIY show is 'Don't Call Me Babe!' – especially the scene with the 'shiny shoes'.
Scott Lawrie
Young Leader, DIY Actor and member of our Board
Scott enjoys helping out at Young Leaders and helping people to achieve what they want to achieve. He likes going to college, going to church and seeing his friends when he can.
Adam Leech
Young Leader and Member of the Friday Group
Adam is a member of the Friday Group, the Passing The Baton Young Leaders Group and DIY BUDS. He is a big fan of Manchester Storm Ice Hockey team. His family is very important to him.
Charlotte Little
DIY Actor, Young Leader, Member of the Friday Group & Co-Chair of DIY's Board
Charlotte loves Lego – if she gets worried she does Lego to take her mind off things. Charlotte likes working with DIY because she likes learning new skills and working with different people. She also likes working with different organisations like Graeae Theatre Company and being involved in conferences like Creative Minds North.
Robert Noble
DIY Actor
Robert likes playing bingo. He enjoys acting, playing with all the instruments and working with the props.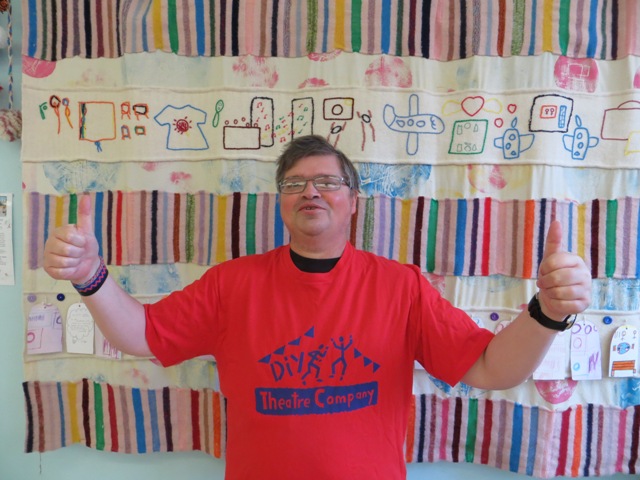 Martin Riley
DIY Actor and Co-Chair of our Board
Martin works at HMG Paints three days a week. Martin thinks DIY is great. His favourite character is Samuel from "Don't Call Me Babe!" because he likes singing and he enjoyed asking the audience where they wanted to go on holiday.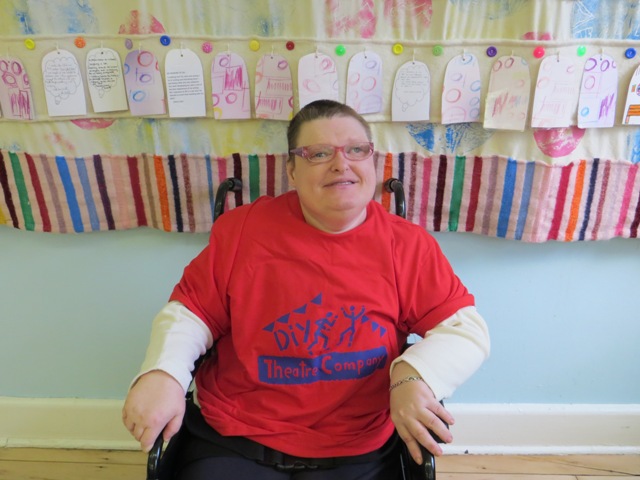 Cathy Rothwell
DIY Actor, Member of the Friday Group and Vice-Chair of DIY's Board
Cathy loves all the Soaps – especially Corrie. Cathy enjoys coming to DIY and her favourite part is doing performances. Cathy is a member of the core company and also leads workshops with the Friday Group.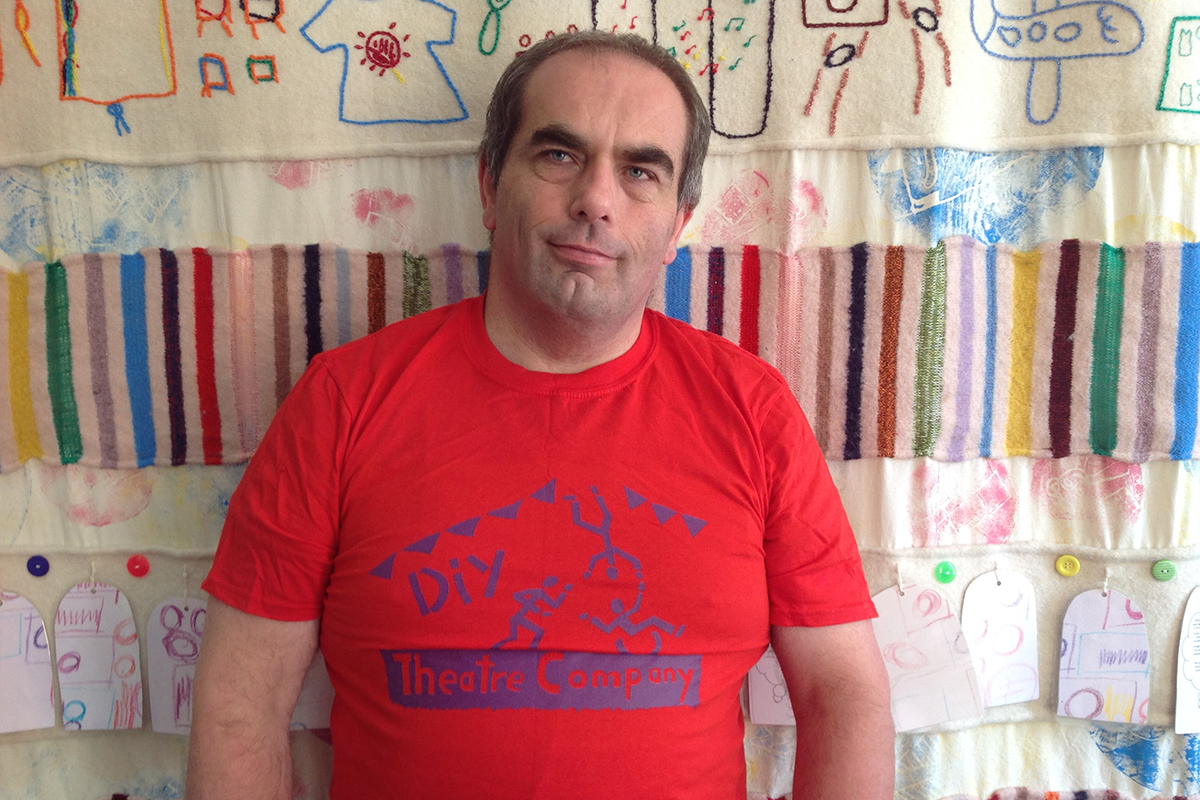 Paul Traynor
DIY Actor
Paul is a member of the Tuesday Group and of DIY BUDS. He likes playing the drama games. Paul also enjoys playing bingo at Top Club.
Anna Ward
DIY Actor and Friday Group Member
Anna likes wearing the DIY T-shirt. She likes going to Langworthy Cornerstone and working with instruments. Anna is one of the leaders at DIY BUDs. She puts out the chairs at the beginning of the session and leads games like passing the microphone round the circle.
Georgia Affonso
Emerging Artist
Georgia is currently working with members of DIY to make our policy documents more accessible. Georgia also works as a script writer and theatre maker. She loves working with DIY because every session is fun, creative and full of energy!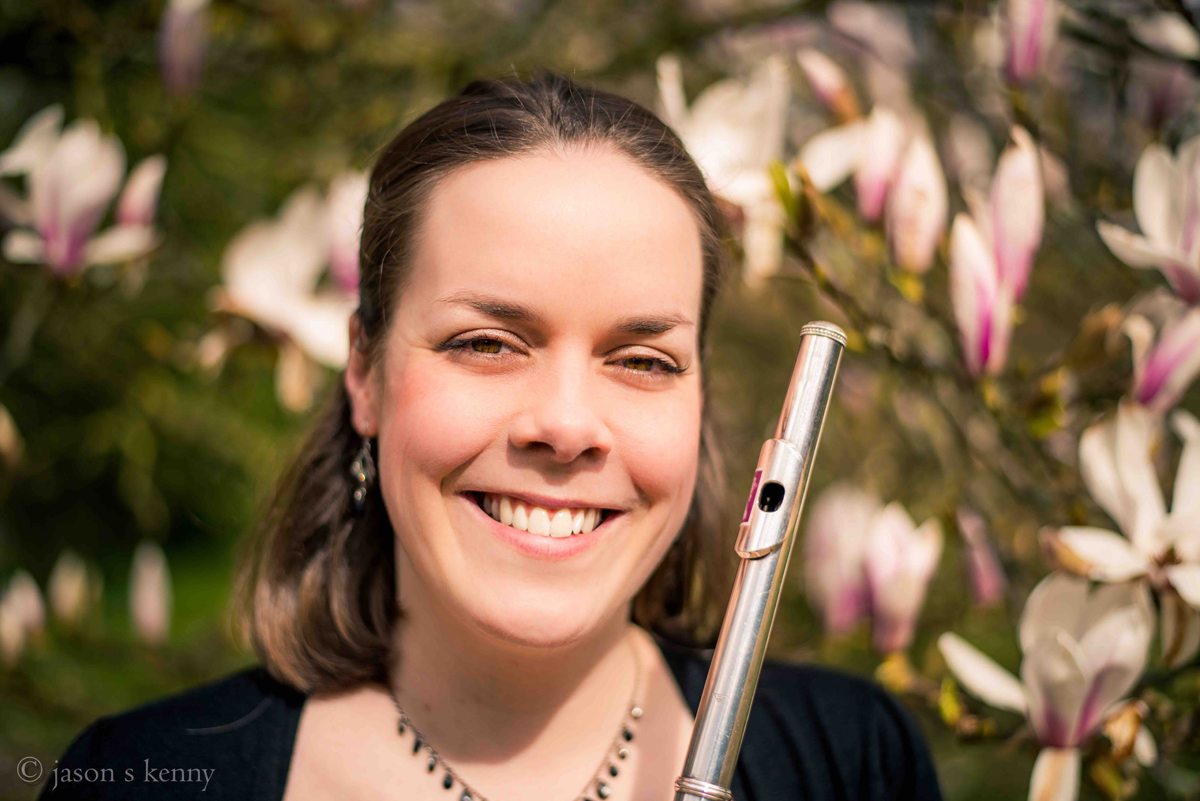 Sarah Atter
Associate Artist: Musician
Sarah loves cooking (and eating), trying to do DIY and having lots of sleep! As a musician, she works with people from many different backgrounds, and always enjoys a new challenge!
Sue Caudle
Artistic Director
She has been Artistic Director of DIY almost since the beginning. She says working at DIY never gets boring because it's such a creative place to work. Sue is trying to learn the saxophone. Find out more about Sue
Nerissa Cargill Thompson
Associate Artist: Designer
Nerissa is a Visual & Community Artist working on both performance and non-performance projects. Originally trained in Theatre Design at Nottingham Trent and recently graduated from MA Textile Practice from Manchester School of Art. She works closely with DIY members, using design within show development as well as designing sets and costumes for performances.
Sophie Coward
Emerging Artist
Sophie is a Manchester based actor-musician with a love of all things multi-sensory. If you ever need to find her, she's usually tangled up in aerial silks! Sophie has absolutely loved getting to know the Young Leaders at DIY and boogie-ing out with them each Monday!
Di Critchley
Board Member
Di has been involved in DIY Theatre from the very beginning. First as a support worker and later as co-ordinator and occasional facilitator. Now she has welcomed the opportunity to remain involved with the company as a board member and feels she is able to use her skills and connections as a health and social care engagement and development officer for the local authority and NHS to support and advise the company on a range of issues such as accessible futures planning, creating easy read information and exploring total communication methods.
Bianca Danielle
Social Media Specialist
Bianca is really pleased to work with DIY as she enjoys being able to share all the incredible work DIY does, far and wide into the digital world! She is a Digital Specialist for various Arts Organisations in Manchester, sharing her Social Media expertise. Outside of DIY Bianca is an Actor and Artist, with her own handmade Art business.
John Doyle
Administrator and our Company Secretary
John has six grandchildren and enjoys seeing them growing up and taking part in their worlds. John says coming to work at DIY is a joy because he feels he is giving and achieving something. There's plenty of variety in the work and there's always something new to do.
Hilary Easter-Jones
Associate Artist: Film Maker
I am a filmmaker who has worked with DIY Theatre Company since 2011. Over the years I have followed DIY and recorded the work they do in schools, the performances they have shared and more recently have been a part of the journey with them as we all negotiate the world of staying connected online.
Andrea Fanchette
Communications Officer
Andrea is proud to be involved with DIY and loves to see the inspirational work DIY does. She also works with other organisations who are doing inspiring work as a graphic designer, advisor and project evaluator.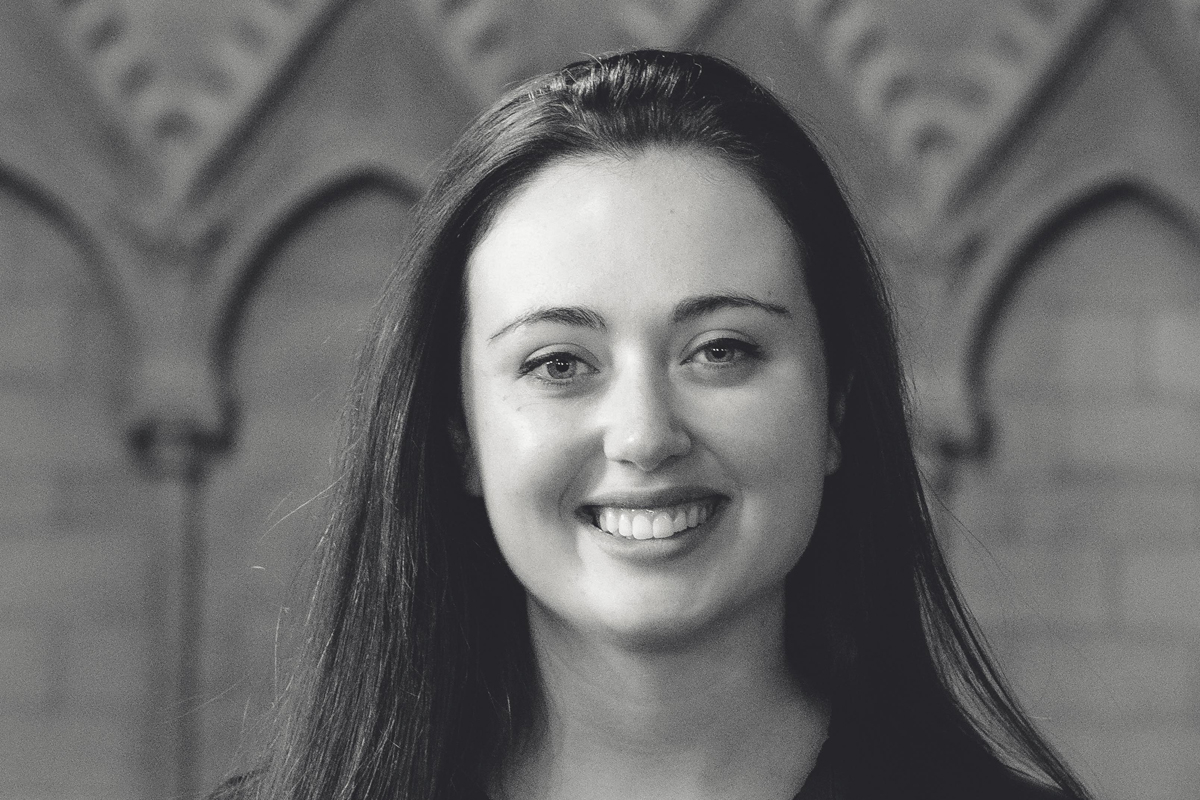 Niamh Feeney
Emerging Artist
Niamh loves working with DIY Theatre because of the creativity and enthusiasm in every workshop. She is a singer-songwriter and enjoys using sign language to teach music.
Philip Harland
Emerging Artist
Phil is a facilitator and theatre technician who loves finding ways of connecting these two disciplines. He a student of Applied and Community Arts and a recent graduate of BA Theatre. Phil is finding working with DIY an absolute joy, and finds everyone to be friendly and ready to get stuck in exploring new ideas.
Jenny Harris
BUDS facilitator and Board Member
Jenny is very happy to be on DIY's board. Having worked with DIY for 14 years she says that to her DIY is like being part of a very happy family. Jenny believes that the work DIY does is extremely important and crucial to continuing to hear the voices of learning disabled actors in the theatre world. So she wants to help to find ways to better what the company does and help DIY to continue on their journey. Find out more about Jen.
Claire Hignett
Visual Artist and DIY's Treasurer
Claire is an artist and has known and worked with DIY Theatre Company and many of its members since its early days! Claire is a co-opted/non voting member of the board and supports the board members to ask difficult questions and understand the answers. She also runs the making for Theatre Courses. Claire makes art and grows vegetables and likes making a mess! Find out more about Claire.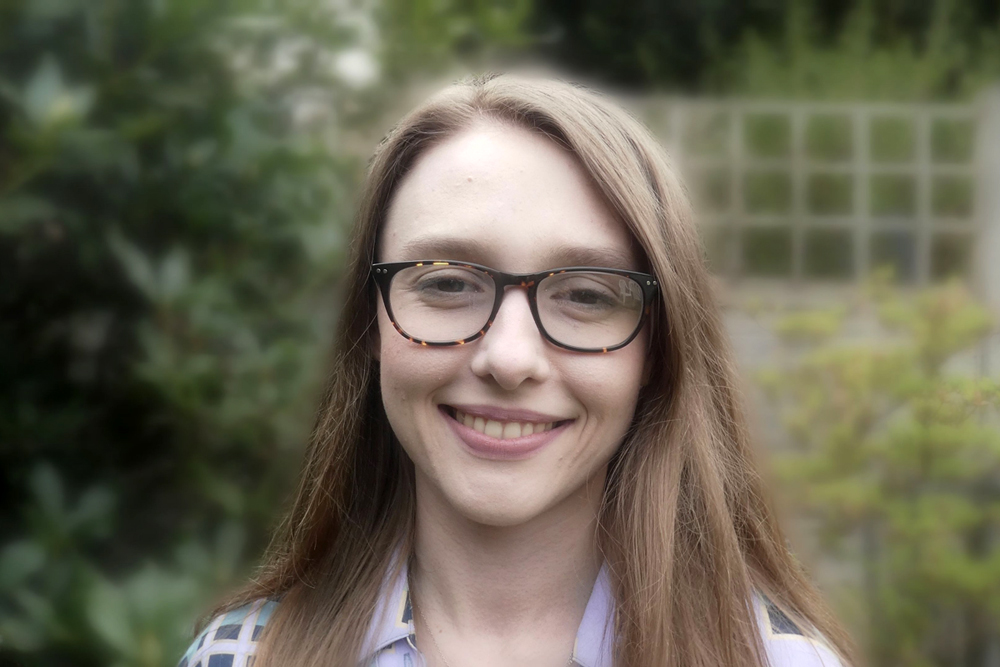 Kate Kelly
Emerging Artist
Kate has trained to be a performing arts facilitator and has a degree in History and Politics. She works with youth centres, museums and theatres. Kate loves working with DIY because the company has so many stories to tell and so many interesting ways to perform them!
Mary O' Neill
Emerging Artist
Mary works with DIY's Tuesday group. She loves the warm, friendly atmosphere at DIY and being part of the team. She also works in street theatre and as an arts project coordinator.
Bill Skeer
Access Co-ordinator
Bill is the company's Access Co-ordinater. It is his job to ensure that all the DIY Theatre Company members are able to be involved and reach their full potential as independently and as safely as possible. Bill has been involved with DIY for over 20 years. He worked for Salford Learning Disability Services for over 30years before retiring to spend more time on his hobbies, building stringed instruments, playing music and walking his border collie "Flint".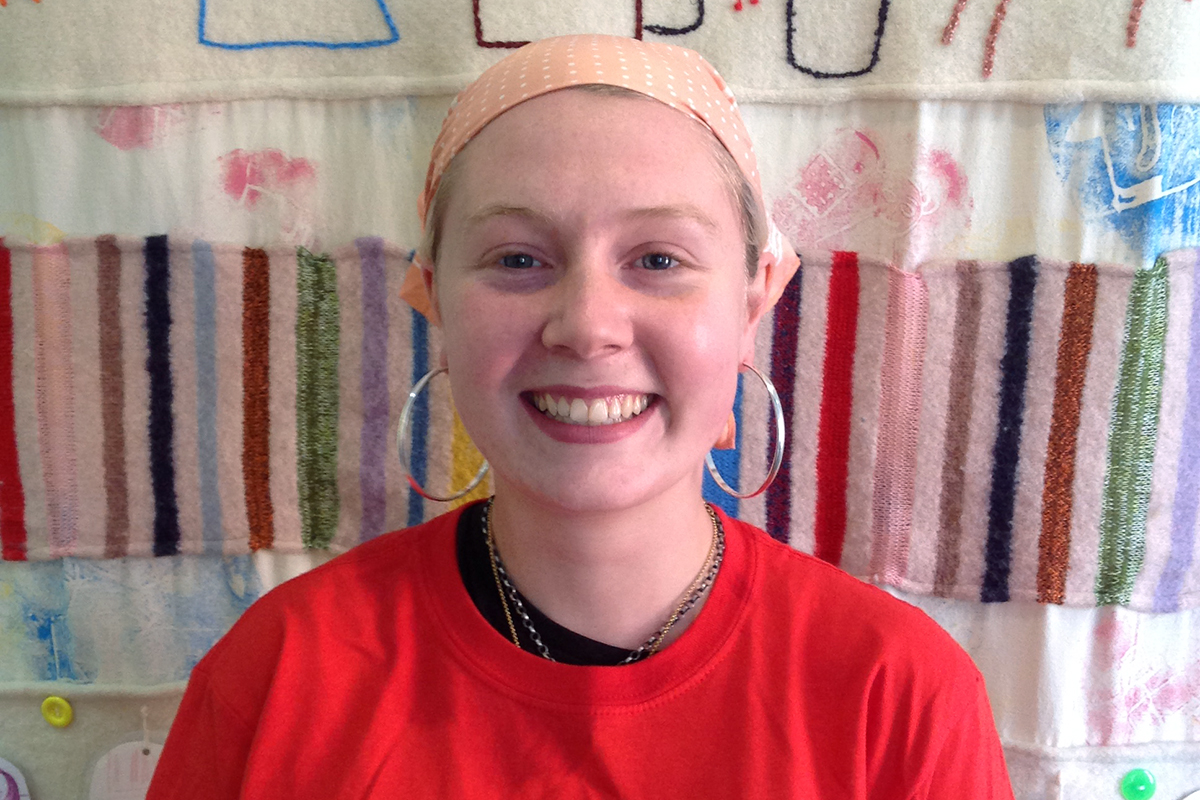 Molly Steadman
Youth Arts Facilitator and Friday Group Facilitator
Molly began working with DIY's Friday group and DIY BUDS. She is now working with the Passing the Baton Project and the Friday Group. Molly first met DIY when she wrote about them as a student and is really happy to be welcomed back to DIY to support their amazing work. Outside of DIY, Molly loves dancing and going to the theatre!
Jade Williams
Emerging Artist
Jade loves being creative and performing. She is a multidisciplinary artist with experience in dance, drama, and creative writing facilitation. She believes that we all have an instinctive creative nature and is inspired by working with young people and creatives from all backgrounds. Jade started working with DIY Theatre in 2021 and has been supporting the Friday Leadership Group. Jade has really enjoyed getting creative with them.
Jenny Sealey MBE
DIY Patron
Jenny Sealey has been Artistic Director of Graeae since 1997. In 2009, she was awarded an MBE in the Queen's Honours and in 2012 Jenny co-directed the London 2012 Paralympic Opening Ceremony. She also won the Liberty Human Rights Arts Award and in 2018 was named in The Stage's top 50 most influential figures in UK Theatre.

"I love being patron of DIY. The commitment, camaraderie and care with the company means the work is authentic, left curve and all embracing. Theatre should be for everyone and DIY demonstrate this with chutzpah and pride."
Chris Gascoyne
DIY Patron
Chris is better known as Peter Barlow in Coronation Street. We are very pleased to have him as our patron!