Who's who at DIY
Meet the team of individuals who make up DIY Theatre Company!
David Austin
Performer
David loves music and listens to all different kinds of music. David is a founder member of DIY and has appeared in all our performances. He enjoys touring and visiting schools because he likes to work with the children.
Martin Riley
Performer and Chair of DIY's Board
Martin works at HMG Paints three days a week. Martin thinks DIY is great. His favourite character is Samuel from "Don't Call Me Babe!" because he likes singing and he enjoyed asking the audience where they wanted to go on holiday.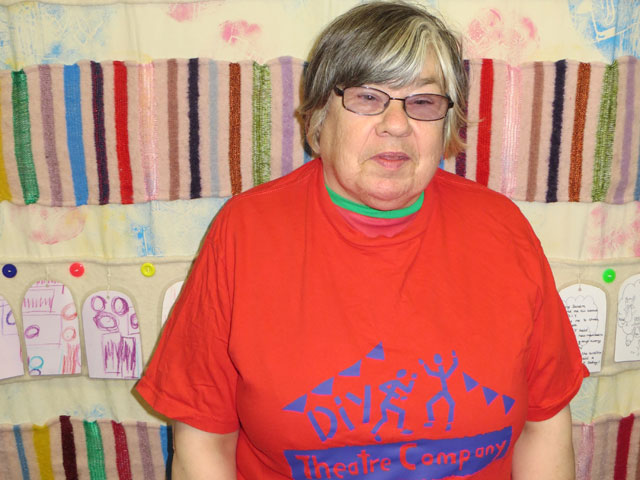 Sharron Casey
Performer
Sharron likes finding out different information on the computer. She found out about DIY on the internet. Sharron likes coming to DIY because she likes joining in and meeting new friends.
Angela Chadwick
Performer, workshop leader and DIY Board member
Angela enjoys playing bingo. Angela is a founder member of DIY. She has been with the company all the way through and still likes doing it. She says she's never going to stop! She likes representing DIY at meetings and telling the rest of the company about what has been happening at the meetings.
Anna Ward
Performer and workshop leader
Anna likes wearing the DIY T-shirt. She likes going to Langworthy Cornerstone and working with instruments. Anna is one of the leaders at DIY BUDs. She puts out the chairs at the beginning of the session and leads games like passing the microphone round the circle.
Cathy Rothwell
Performer, workshop leader and Vice Chair of DIY's Board
Cathy loves all the Soaps – especially Corrie. Cathy enjoys coming to DIY and her favourite part is doing performances. Cathy is a member of the core company and also leads workshops with the Friday Group.
Robert Noble
Performer
Robert likes playing bingo. He enjoys acting, playing with all the instruments and working with the props.
Charlotte Little
Performer, workshop leader and Board Member
Charlotte loves Lego – if she gets worried she does Lego to take her mind off things. Charlotte likes working with DIY because she likes learning new skills and working with different people. She also likes working with different organisations like Graeae Theatre Company and being involved in conferences like Creative Minds North.
Amy Carter
Performer
Amy works at the hospital, where she keeps the staff corridors clean and tidy. Amy was told about DIY by a friend. DIY has helped her become more confident. She likes leading at DIY BUDS on a Thursday afternoon.
Joanne Mason
Performer and workshop leader
Joanne has her own office at home where she does printing and paper-work. Joanne is a team-worker. She enjoys working with the group. Before Joanne came to DIY she used to do knitting. She especially enjoys doing the folders at Langworthy Cornerstone.
John Doyle
Administrator
John has six grandchildren and enjoys seeing them growing up and taking part in their worlds. John says coming to work at DIY is a joy because he feels he is giving and achieving something. There's plenty of variety in the work and there's always something new to do.
Sue Caudle
Artistic Director and Board member
She has been Artistic Director of DIY almost since the beginning. She says working at DIY never gets boring because it's such a creative place to work. Sue is trying to learn the saxophone.
Nikki Mailer
Nikki runs our Friday Group Sessions
Mary O' Neill
Mary is supporting DIY's Tuesday sessions
Hebe Reilly
Hebe will be working with us on Thursdays and Fridays
Carol Kubicki
DIY's Treasurer
Carol oversees the finances; providing advice and help with budgeting and financial planning. When Carol isn't at work she can usually be found touring in her campervan, walking or cycling. Carol enjoys playing her part in making DIY Theatre the excellent company it is.
Jenny Sealey MBE
DIY Patron
Jenny Sealey has been Artistic Director of Graeae since 1997. In 2009, she was awarded an MBE in the Queen's Honours and in 2012 Jenny co-directed the London 2012 Paralympic Opening Ceremony. She also won the Liberty Human Rights Arts Award and in 2018 was named in The Stage's top 50 most influential figures in UK Theatre.

"I love being patron of DIY. The commitment, camaraderie and care with the company means the work is authentic, left curve and all embracing. Theatre should be for everyone and DIY demonstrate this with chutzpah and pride."
Chris Gascoyne
DIY Patron
Chris is better known as Peter Barlow in Coronation Street. We are very pleased to have him as our patron!