Join DIY this weekend at 3 fantastic festivals!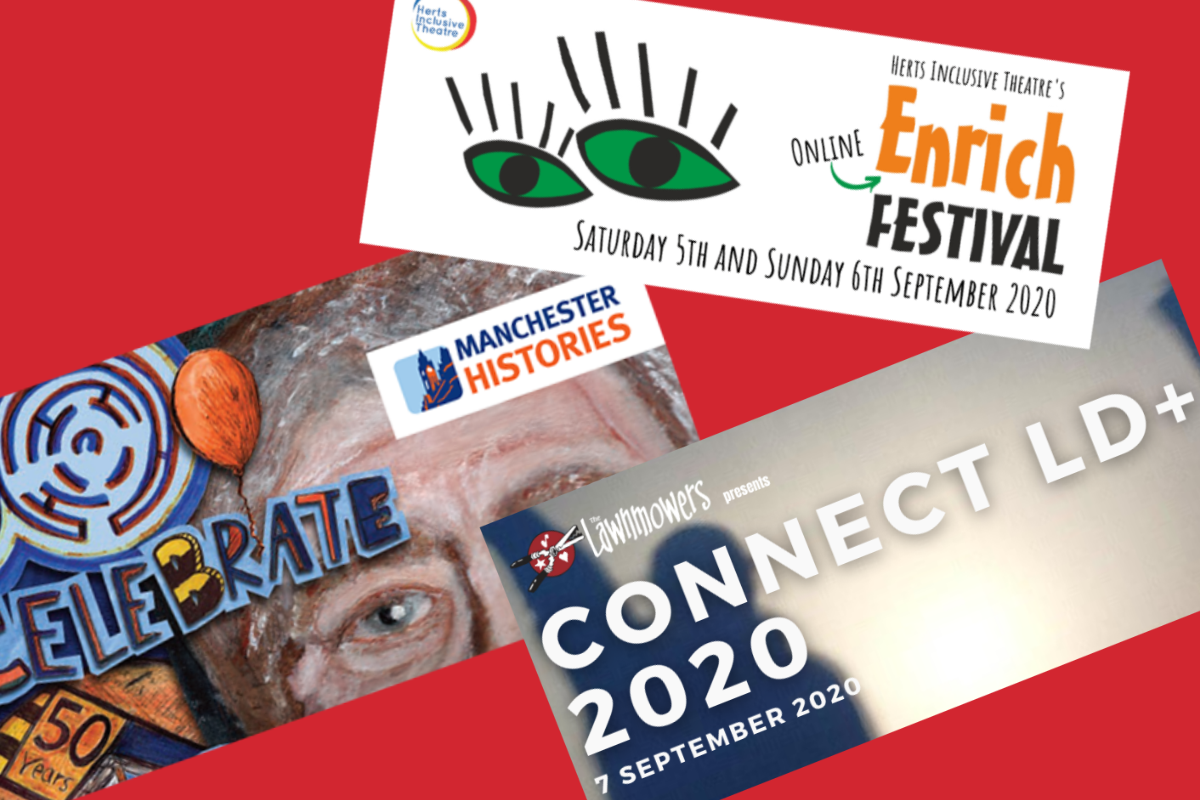 DIY tour the country this coming weekend! Kicking off at Manchester Histories Festival on 5th September, then down to Watford on Sunday to perform at Enrich Festival then up to Gateshead to join the Lawnmowers for Connect LD+ … and all without leaving Manchester.
---
Manchester Histories DigiFest 2020
Friday 4th and Saturday 5th September
Due to Covid19 Manchester Histories Festival will be presenting its first ever DigiFest on Friday 4 & Saturday 5th September 2020. DigiFest 2020 will create a collective on-line space for disabled and non-disabled people to present their stories, ideas and content through a pop-up TV Studio, broadcasting live across the globe from Manchester.
The festival will mark the 50-year anniversary of the Chronically Sick and Disabled Persons Act (CSDPA) 1970.
This landmark legislation was pioneered by the late Lord Alf Morris, who subsequently became Britain's first minister for disabled people. Often described at the Magna Carta for disabled people, this was the first disability rights legislation anywhere in the world and laid the foundations for the Disability Discrimination Act 1995 and the Equality Act 2010.
We are excited that a number of Film excerpts from DIY's interactive story about our performance Following Patient 36 will be featured as part of the festival. The show is DIY's performance exploring Learning Disability History and the resilience of people with learning disabilities.
Multi award-winning artist and educator Jackie Hagan will be hosting the two days of live and pre-recorded content. All the content has been  collaboratively created with organisations and individuals from the disabled community; exploring the legacy of Alf's Act, celebrating talent and creativity, and prompting conversations and discussion.
Interview with DIY is on Saturday 5th at 3.05pm
Sue Caudle, our Artistic Director, will talk about the challenges and opportunities presented by digital platforms to Learning Disability Theatres like DIY.
---
Enrich Online Festival
Saturday 5th and Sunday 6th September
Herts Inclusive Theatre's Enrich Festival is a weekend event, normally held in Watford, created to give space and visibility to amateur and professional artists with learning disabilities, break down social barriers and challenge misconceptions. Using visual and performing arts, the Enrich Festival provides an outlet for expression and an opportunity for the artists and audiences to engage in new activities and forge links with the wider community.
Last year DIY showed our performance Give Me Space! At the Festival
This year the Enrich Festival 2020 is going online and DIY are going to be part of it!
On Sunday 6th September
DIY 'CIRCUS Tricks' Workshop @ 11.30am
A circus-themed drama workshop co-led by DIY Theatre Company's Passing the Baton Young Leaders Group.
Meet our circus characters, learn our circus song and try out a few circus-themed drama activities. Please bring a piece of material – a silk, a scarf, a tea towel – to join in the fun.
For more information about the work of DIY's Passing the Baton Programme, please see our evaluation of this programme which ended in2022.
Click to see the report:


DIY Theatre continues to work with children and young people with a learning disability. Learning from the Passing the Baton Project has been fed into other work such as Gamechangers and Leading Edge. Have a look around this website to see what we are currently offering or email us at diytheatre@gmail.com

Young Leaders, visit Young Leaders page Free weekly sessions start Monday 7th.
Following Patient 36 @ 3pm
Following Patient 36 is DIY's performance exploring Learning Disability History and the resilience of people with learning disabilities. We first meet our fictional character, Patient 36, in an institution and follow them as they leave as part of Care in the Community and right up to the present day.
We can't share our performance live at the moment so have created this interactive story so we can share it on a digital stage!
---
Connect LD+ 2020
Monday 7th September
We are going to be part of the exciting Connect LD+ 2020 Online Digital Festival being organised by The Lawnmowers Independent Theatre Company.
DIY's 3 pieces created during Lockdown will be featured:
I Wish Everything Was Back to Normal film
Always Connected song / Film
We're All in this Together song / film.
The work will be shown in 6 different tents at the festival – DIY's films and songs will be shown in the Lockdown Tent.
We also hope that DIY members will get involved in some of the exciting workshops that will be taking place during the Monday.
There are 3 ways to interact with Connect LD+ 2020:
Website – lawnmowerstheatre.com Here there will be different themed tents where you can go to see all pre-recorded material (including DIY's pieces).
On Youtube  This will be live from 6 to 7pm and will be a chance to watch highlights from the festival.
Free live workshops on Zoom throughout the day. These will provide a chance to meet people virtually and experience new digital ways of creating and working.
You need to book via eventbrite for workshop places, click the links below to find out more about each of the workshops and to book for any you are interested in.
Don't forget you need to book for any workshops you are interested in.
---
We hope to see you there, and there, and there! 
---
A big thanks to our funders who have supported us during Lockdown; enabling us to find new ways of working, connecting and sharing.