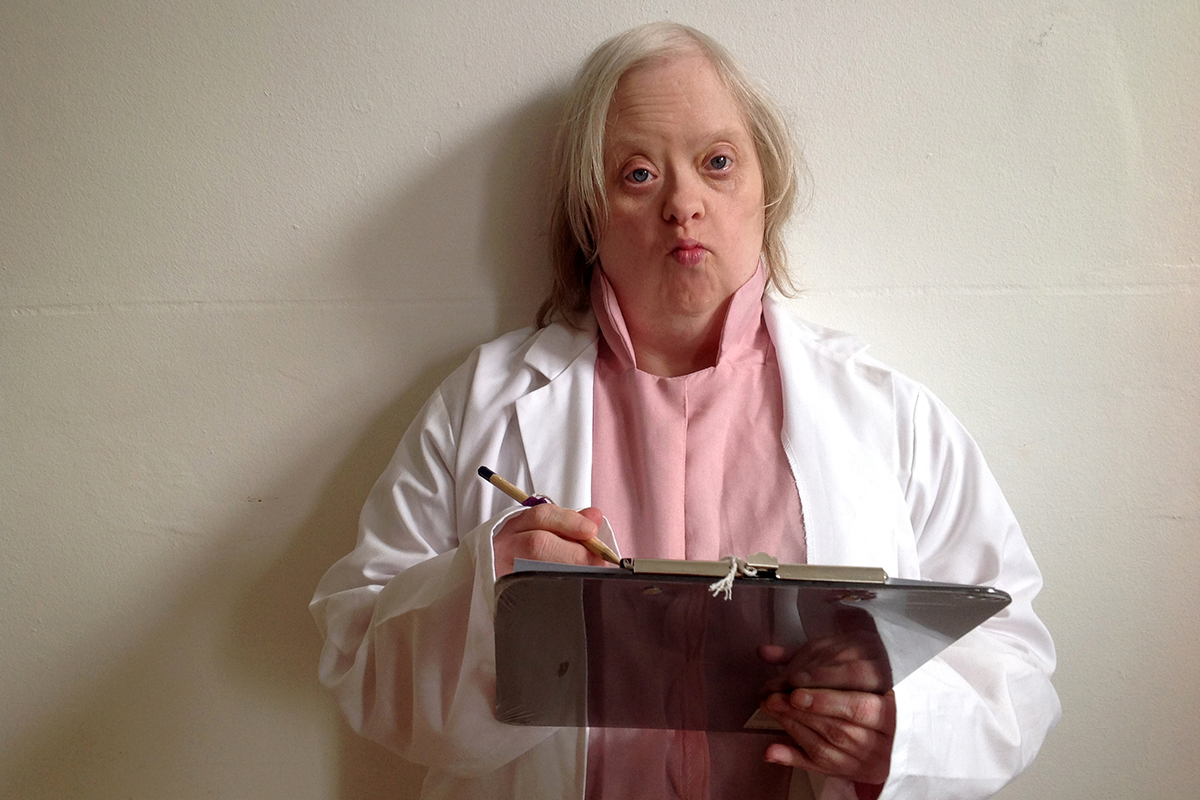 The story so far:
We still have a long way to go in creating our Following Patient 36 Story but would like to share our research and development so far. Our next public performance will be on November 19th at Eccles Town Hall – the trailer is included in the video section at the end of this page – watch the trailer. Tickets are £4, please get in touch on 0161 212 4984 to book your place.
Following Patient 36 looks at Learning Disability History. We have found this a very challenging process and some of the things we have been exploring have been difficult to talk about and to make work about.
It is important that this is a creative project – a story in words and images, based on what we've been finding out. Our show will be a work of fiction, based on our research,  not a documentary and is not directly related to the personal experiences of any individual.
Background
In 2018 DIY members took part in performances of Madhouse Re: Exit with Access all Areas Theatre Company, as part of The Lowry's Week 53 event. DIY actors played a character called Patient 36 who guided audiences around the fictional Paradise Fields institution in a show which took a critical and challenging look at Learning Disability History. See more about DIY and MADHOUSE re:exit here
DIY members wanted to learn more about Learning Disability History. First we started to find out a lot more about what it was like in the institutions. Then we started to wonder what happened here in Salford. What happened when people came out of the institutions, as part of Care in the Community? That was how the idea for our Following Patient 36 Project was born.
Research
We have been looking at websites and finding pictures and personal stories. 
DIY held interviews with local people who have stories to tell about Care in the Community in Salford. Company members agreed the questions beforehand and then took turns to ask people questions about their experiences. 
So far, we have found it difficult to speak with people who actually lived in an institution. They find it very hard to talk about distressing past experiences. We soon realised that it is sometimes what is not said, when there is silence, that is as important as what is said.
These interviews were recorded and we intend to include some in the show.
Freedom & Control
Earlier this year we did some movement sessions with Susan Guest, which helped us think about 'freedom' and 'control'. This has helped us to use physical theatre to explore these ideas further. So far, we've been concentrating on inside the institution. We think it's important to explore some of what it feels like to be in an institution, in order to start to understand what it feels like to come out of an institution.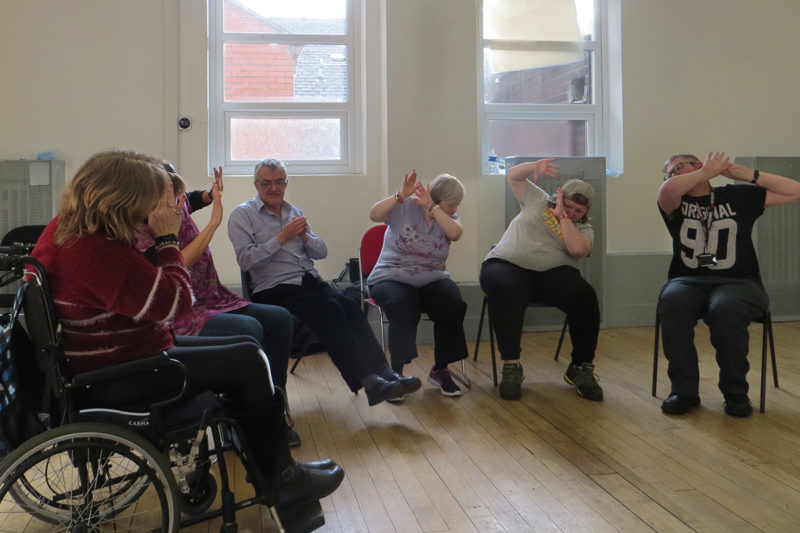 Choice & Identity
We have been working with designer Nerissa Cargill Thompson to design our costumes for the show. We drew images of the colours and fabrics people might wear inside and outside the institution, based on our research. This brought us to thinking a lot about choice and identity.
We found out that inside the institution people had no clothes of their own. Everyone had to share everything, including clothes. Nowadays we have the choice to choose our own clothes – we all like different styles and colours and we all like doing different things. 
When the characters in the performance leave the institution they are able to decide what they want to wear. We have chosen our own logos for the T-shirts they will wear when they leave the institution. This will demonstrate how people with learning disabilities did, and do,  make choices and create their own identities.
Creative Writing
DIY has been writing about what we have found out and how this has made us feel. One of our members in particular, Sharron, has been inspired to do a lot of writing about this. We have recorded some of our writing so that it can form part of the soundtrack to the performance.
Film Making
We have been working with film-maker Hilary Easter-Jones to create film sections for the show. Although we've worked with Hilary for many years, we have never worked with her on a performance piece, so one of the creative opportunities and also challenges of this project has been finding ways of integrating film and live drama. 
Because some of the Learning Disability History is so difficult to think about or show, we have been experimenting with using shadows as a way of dealing with some of the most distressing aspects of institutional life.
Hilary has also worked with us to make a film about the process of the project to date. We will add this to the page as soon as we can, we think it gives a good flavour of what we've been doing so far.
Following Patient 36 Sharing Event
During July 2019, DIY held a residency at the New Adelphi Theatre at Salford University. The residency culminated in a sharing of where we were up to with research and development towards our performance piece "Following Patient 36". Over 20 friends and supporters came to see the work so far and joined in an after show discussion with the cast and others involved with the development of the show.
---
During this project DIY have been working with:
Sue Caudle (Artistic Director)
Mary O'Neill (DIY Supporter)
Hilary Easter-Jones (film-maker)
Richard Easter (soundtrack)
Nerissa Cargill Thompson (designer)
Ian Dean (technical support)
Susan Guest (movement)
Thanks to:
---
Photograph Acknowledgements:
Images of Brockhall and Calderstones Institutions courtesy:
Brenda Kay
Duncan Mitchell
David Whalley
Gill Cott
Lancashire County Council Museums Service
Mersey Care NHS Foundation Trust
Pathways Associates CIC
Image of Prestwich Mental Hospital
Martin Parr © Martin Parr / Magnum Photos Click to find out more about Martin Parr
Performances
Work in Progress Sharing Event at New Adelphi Theatre

5 July 2019

Cheetham's School of Music

20 October 2019

Eccles Town Hall

19 November 2019