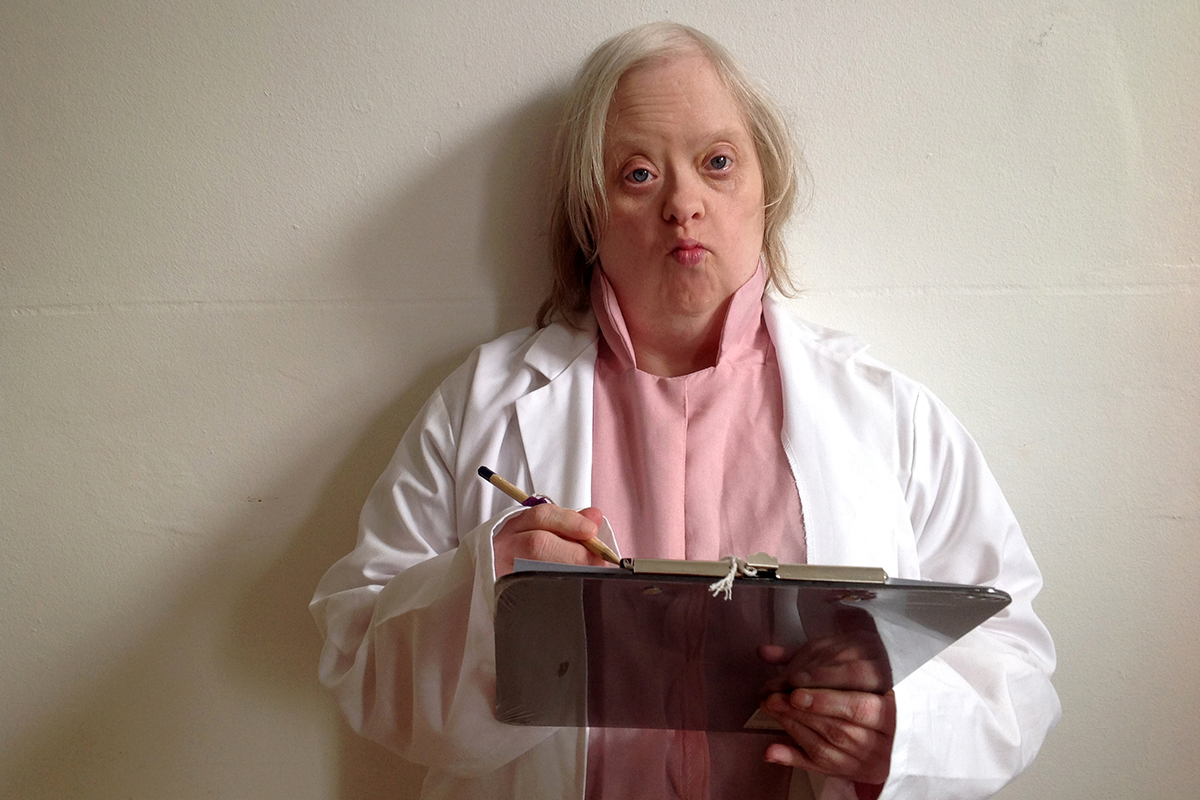 Following Patient 36 is DIY's performance piece exploring Learning Disability History and the resilience of people with learning disabilities in Salford and Greater Manchester.
Following Patient 36 in 2020
During the early part of 2020 DIY developed a positive relationship with the Working Class Movement Library in Salford, which was once itself a hostel for people with learning disabilities. We visited on a couple of research trips and were given access to an amazing collection of placards, badges and photographs which inspired us in developing our show.
Telling our story online – in film, sound, text and images.
However plans for performances at Working Class Movement Library and Manchester Histories Festival during Summer 2020 had to be shelved owing to the Coronavirus pandemic.
Because we will be unable to share our performance on a live stage for the foreseeable future, we have made this interactive story book as our way of sharing our work.
Loved your production, amazing transition to online performance, really one of the best I've seen.
Dr Winter Phong, Oklahoma State University
Please click to view.
---
Background and R&D

Back in 2018, DIY members took part in performances of Madhouse Re: Exit with Access all Areas Theatre Company, as part of The Lowry's Week 53 event. DIY actors played a character called Patient 36 who guided audiences around the fictional Paradise Fields institution in a show which took a critical and challenging look at Learning Disability History. See more about DIY and MADHOUSE re:exit here
DIY members wanted to learn more about Learning Disability History. First we started to find out a lot more about what it was like in the institutions. Then we started to wonder what happened here in Salford. What happened when people came out of the institutions, as part of Care in the Community? That was how the idea for our Following Patient 36 Project was born.
Research and development for "Following Patient 36" was undertaken in 2019. We created a performance piece which incorporated live action, film, live and recorded music. The process involved was documented in our programme for the R & D sharing events – click the image below to see this.
Sharing 'Following Patient 36' in 2019
New Adelphi Theatre
DIY held a residency at the New Adelphi Theatre at Salford University during July 2019 . This culminated in the first sharing of where we were up to with research and development for 'Following Patient 36′ with our of our R&D performance piece.
Chetham's Festival 50
In October 2019, Chetham's School of Music celebrated its 50th birthday with 'Festival 50' – 'a lively open weekend showcasing the region's creative spirit'. DIY were invited to take part and we performed some of the songs devised for Following Patient 36. Find out more on Chetham's own website.
Eccles Town Hall
DIY staged a second sharing performance in Eccles Town Hall in November 2019. This event gave us a second very positive opportunity to gain feedback from a live audience.
We were delighted that nearly 100 people came and even more delighted when the company received a standing ovation!
---
During this project DIY have been working with:
Sue Caudle (Artistic Director)
Mary O'Neill (DIY Supporter)
Hilary Easter-Jones (film-maker)
Richard Easter (soundtrack)
Nerissa Cargill Thompson (designer)
Ian Dean (technical support)
Susan Guest (movement)

Sarah Atter (live music)

Andrea Fanchette (graphics and performance photography)
Thanks to:
---
Photograph Acknowledgements:
Images of Brockhall and Calderstones Institutions courtesy:
Brenda Kay
Duncan Mitchell
David Whalley
Gill Cott
Lancashire County Council Museums Service
Mersey Care NHS Foundation Trust
Pathways Associates CIC
Image of Prestwich Mental Hospital
Martin Parr © Martin Parr / Magnum Photos Click to find out more about Martin Parr
All other photographs, DIY's own.
Video
This short trailer was used to promote public sharings as part of the research and development phase.
Exploring Our Past, Making Our Future. This film explores the devising processes used by DIY Theatre Company to  to develop 'Following Patient 36' Please be aware some of the scenes are disturbing. A film by Hilary Easter-Jones
Film 'The Mental Deficiency Act 1913', produced as part of the research and development work for Following Patient 36. Please be aware some of the ideas shown are disturbing. A film by Hilary Easter-Jones
Performances
Work in Progress Sharing Event at New Adelphi Theatre

5 July 2019

Cheetham's School of Music

20 October 2019

Eccles Town Hall

19 November 2019

Manchester Histories DigiFest 2020

5-6 September 2020

Enrich - online - Festival

6 September 2020

Connect LD+ 2020 online festival

7 September 2020