Amy and Charlotte travel to develop leadership skills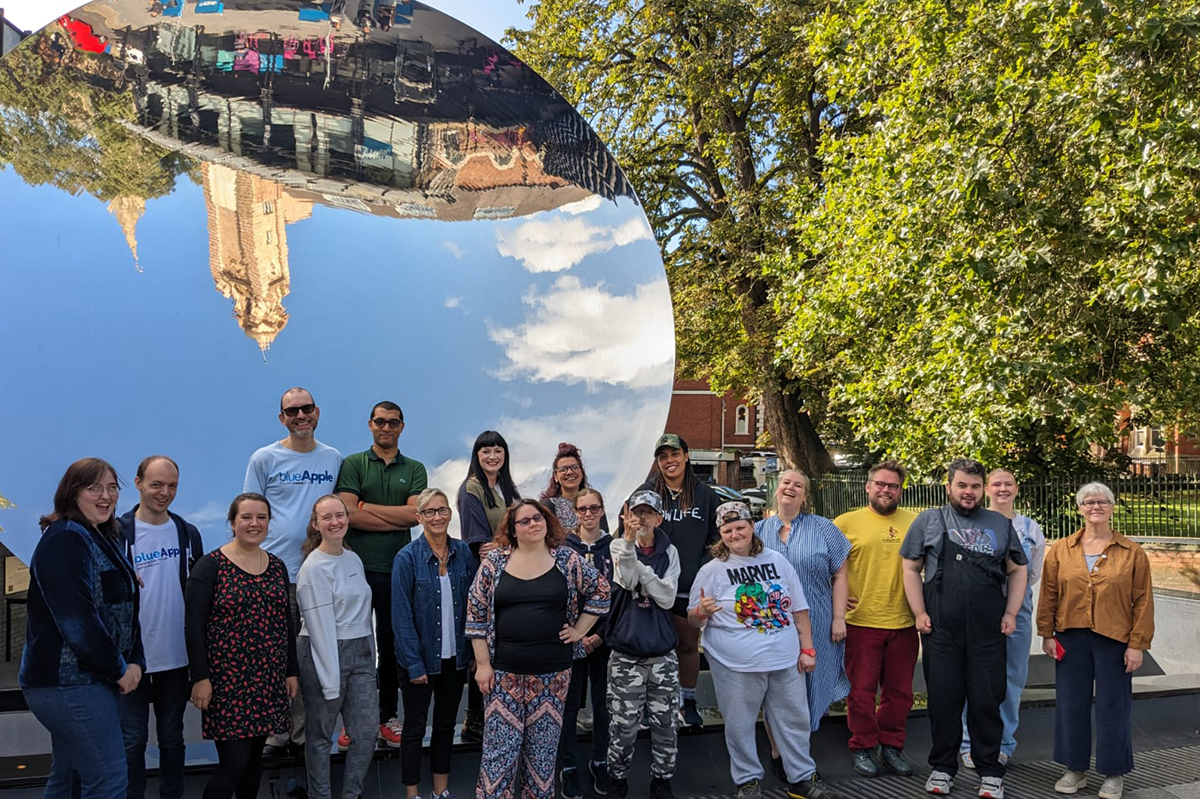 Transforming Leadership is an exciting national initiative to develop learning disabled and autistic cultural leadership. It is being led by Access All Areas and is funded by Arts Council England. It will run until March 2025. The aims are to:
Share skills and best practise in co-directing and inclusive governance amongst all partners
Create training and pathways for learning disabled leaders in co-directing and governance
Develop relationships with local arts venues to foster genuine inclusion and representation of learning disabled leaders.
The initiative involves a network of eight Learning Disability Arts organisations including DIY, Access All Areas, Mind-the-Gap, Blue Apple Theatre, Unanima, Square Pegs, Prism Arts and Hubbub.

At DIY Transforming Leadership has been integrated into our Leading Edge programme which is funded through The National Lottery Community Fund.
Two DIY leaders have seized the opportunity to undertake Transforming Leadership training. Charlotte is following a co-directing route and Amy a governance route. During September 2023, both travelled to attend residential training courses.
Amy attended a governance residency from 12 – 15 September in London and Charlotte a co-facilitation / directing residency from 19 – 22 September in Nottingham. Both trainees were supported by DIY Freelancer Georgia Affonso.
Both Amy and Charlotte documented their residencies every step of the way and took over DIY's Social Media channels. Some of the images they created are included in this Latest News.
We caught up with Amy, Charlotte and Georgia soon after they came back from the residentials to ask them about their experiences.
Q: What was the highlight of the residentials for you?
One highlight for me was Nick asked us to be on a panel and I said I would be on a panel. Lotus was asking us loads of questions and one of the questions was quite hard – she asked "What's the target audience of your work?" so I said "It depends on what shows we're doing" Getting asked loads of questions, that was the highlight for me.
Amy
Probably meeting all the new people and making new connections. One person from Prism does art on a different scale. I'm interested in getting her skills linked into our performances somehow.
Charlotte
Firstly I was so proud to be alongside Amy and Charlotte at the residentials. You came in really confidently – it's not easy coming into a room with people you've seen on Zoom and not seen in person, but you were straight in there in the workshops.
Georgia
Q What did you learn on the residentials?
I leant what proxemics is. It means, what's the relationship of the characters on stage. If they're far away or close together. I also learnt that you can look at performance from different angles. So, when a character is in the middle you can go to one corner and see what it looks like and go to the other corner and see what it looks like.
Charlotte
We did presentations, so I learnt about all the different actors and how they work. Lotus wrote her own story.  Anna's presentation was about touring. Charlotte talked about working on an outdoor performance. Mine was how I got inspiration from Chrissie to write my own performance. I've got it out there now. I didn't know how I was going to get it out there but I've got it out there and Access All Areas know I'm doing my own show.
Amy
I learnt a lot about the other companies and how they work and that was really interesting. On Amy's residential we chatted a lot about governance at the different companies and it's interesting to see how differently everyone does it. We are so similar and yet everybody's actually doing it very differently.
Georgia
Q: What do you want to bring back to DIY from the residentials?
In my group we were talking about meeting up in a place for taster sessions. So Blue Apple would do something and DIY would do something. One group could travel to us and then we'd travel to them. We could run a workshop – that's what we were talking about.
Charlotte
We played a "What's in the box" game about something you will take away with you at the end of a session. We did something we would take away at the end of the residential. My idea was "taking all your brilliant ideas and feeding them back to DIY". We did the "Fruit Salad" game but we did it in a governance way instead. It was really good. Some people can be the treasurer, some people can be not listening at the board, and somebody else can be something else at the Board. Then when you say "Fruit Salad" we all have to change seats and find a different seat.
Amy
I thought the improv you did Charlotte was really good – you were really good at it – and that was a lot of fun. I think that's something I've been less confident about trying at DIY and actually watching you do it made me think maybe that's something I will have a go at at DIY. It was a really good way of practicing directing- by trying it once, then trying it again in a slightly different way.
Georgia
---
Thanks to Arts Council England for their support for the Transforming Leadership Initiative.
---