Inside : Outside – Sharing some moments from our R&D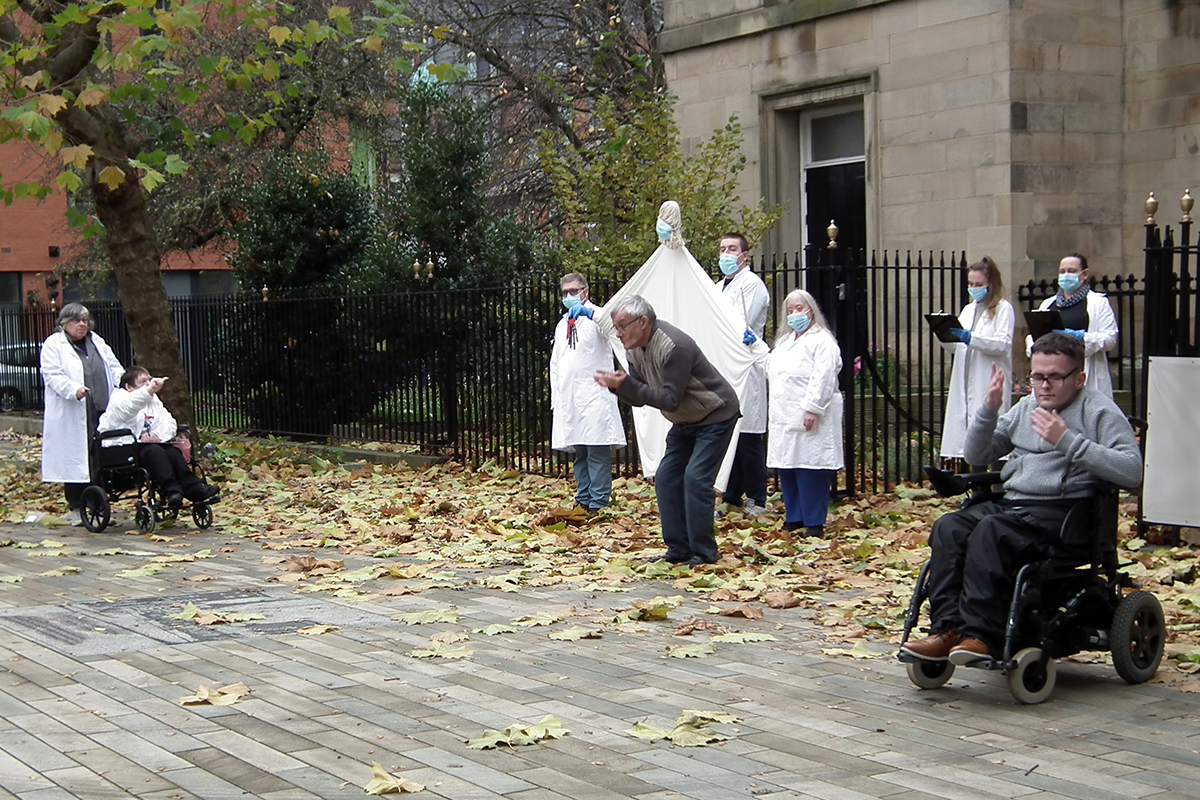 DIY's Core Company has been working hard this term on Inside: Outside our Outdoor Arts Research and Development Project.
A fantastic and meaningful performance"
Audience feedback

The aims of the project were:
to enable DIY artists and performers to connect creatively after a long period of separation owing to Covid 19.
to develop Outdoor Arts Skills – working with experienced practitioners in Outdoor Arts to develop skills and understanding of outdoor arts.
to explore themes of captivity / control and freedom / release –drawing out the link between experiences of the institutions of the past and our own more recent shared experiences of the Covid19 Pandemic.
to create a performance – that would lead socially-distanced audiences through a series of performative moments.
We got together safely – outside in Peel Park
In the summer of 2021 DIY's Core Company got back together for the first time since the pandemic began. Our thanks to Salford Rangers Service and Friends of Peel Park, who helped to make this happen.
I've missed everybody. In the park we were getting back together"
Cathy, DIY Actor
It's better to be all together – all together in the park. … We were all connecting in the performance."
Sharron, DIY Actor
Thanks to funding from Arts Council England we were able to bring in some brilliant Outdoor Arts Specialists to share their skills with us. These sessions began in June look at our earlier news story 'Transitions' to find out more about the first workshops with Sonya Moorhead and Whalley Range All Stars.
Beka Haigh is a puppet maker, performer, and co-founder of Frolicked puppet theatre company – an outdoor, puppet-based company touring across Europe. Beka shared with us how to create unique and intimate experiences for all kinds of unusual spaces and places using self-made puppets.
Finally outdoor arts specialists Global Grooves shared their skills and experience in creating carnival and processional work. DIY performers took part in music and dance workshops during the day.
I want to do more in the park but wait until the Summer – when it's not cold"
Ange, DIY Actor
Harnessing our new skills to create a performance
Later in the year we built on the work we did with these outdoor arts specialists. Instead of working at Peel Park, we have been working in the Angel Centre and in the grounds around St Philips Church. We have worked with designer Nerissa Cargill Thompson to create visuals for the piece – including puppets of different sizes and scales and with professional musician Sarah Atter to explore how we could use live music to process between different performance areas.
We organised a sharing event to highlight some of the ideas and techniques we have developed during our Inside : Outside project including playing with size and scale, using puppets, introducing fabric and colour to show our identity and  combining drama with live music.
The event took place on Tuesday 9th November 2021 – both inside the Angel Centre and outside within the grounds of the neighbouring St Philip's Church. The event incorporated outdoor theatre scenes, puppetry, songs and visual elements including placards and small-scale installations. 
It was great being outside. Getting together as a team. We dressed up in costume and performed the show – we had an audience
David, DIY Actor
I felt really engaged and interested in the performers' stories"

It was a great statement about disability history"
Audience feedback
For the second half of the sharing we moved inside the Angel Centre to explore the background and process of the piece. We facilitated an informal discussion and asked audience members to complete an accessible questionnaire to gather feedback, ideas and comments.
Some thought-provoking work and lovely ensemble work."
Audience feedback
---
Inside : Outside has been developed in partnership with Salford Rangers Service and Friends of Peel Park. We are grateful for the support of Arts Council England for this project and to St Philip's Church for allowing us to perform in their grounds.