We're Passing the Baton now!
'Passing the Baton' is our exciting new project looking at provision for young people with Learning Disabilities in Salford.
Passing the Baton is funded by The National Lottery Community Fund. The project will provide exciting new opportunities for young people with Learning Disabilities in Salford.
Over the next 3 years we aim to develop our Young Leader's programme. Working specifically with those in transition from formal education into adulthood, the programme develops leadership skills and confidence.
So far, our Young Leader's – Charlotte, Amy, Hannah & Adam – have been busy discussing their aims for the project and planning our outreach work in schools – more of this below
The group have also created a new logo to represent this new project. They said it needed to have figures on (like the DIY logo), and must include a wheelchair user. Also that the design needed to be bright and colourful and should show people passing either a baton or a book that says 'learn new skills' on it.
Also over the next 3 years, DIY are planning to establish a new youth theatre. This will offer ongoing drama provision to young people aged 11+.
---
Our Young Leaders bring fresh ideas to DIY's work with schools
Over the Summer Term, Passing the Baton will be delivering various drama workshops and Arts Awards to young people in Salford.
We are looking forward to delivering a series of Sensory Theatre and Discover Arts Award projects to students at Chatsworth Engage.
DIY will be contributing to Springwood School's Space themed week, by performing 'Give Me Space!' and our Young Leader's have designed an accompanying set of space-themed workshops for the students.
In June we will be working with Year 10 and 11 students at Chatsworth High School. We will be developing their leadership skills as they plan and prepare to deliver a workshop to younger students during the school's Music Festival.
---
Piloting a New Youth Theatre!
In June DIY are running a series of pilot drama sessions at You Can. We hope this will lead to us being able to launch a new youth theatre in partnership with You Can soon.
If you are a young person with a learning disability in Salford, you are welcome to join us on Tuesday's 6.30pm – 8pm, at the Beacon Centre. First session is on Tuesday June 11th.
.
---
UPDATE:
DIY'S succsesful Passing the Baton Programme ended in 2022. Click to see the report: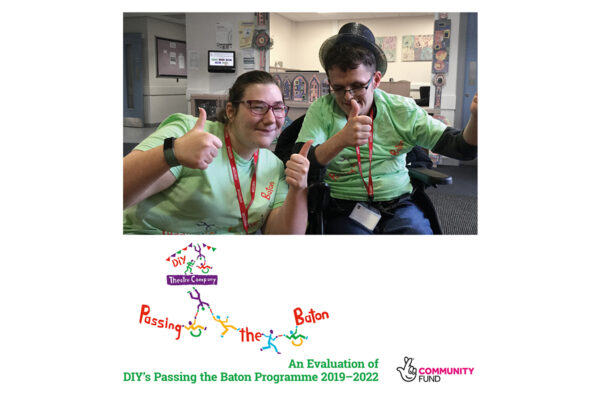 DIY Theatre continues to work with children and young people with a learning disability. Learning from the Passing the Baton Project has been fed into other work such as Gamechangers and Leading Edge. Have a look around this website to see what we are currently offering or email us at diytheatre@gmail.com