Interested in our Youth Drama Club?
Autumn Term begins Tuesday 21st September – and we will be starting back in person!
---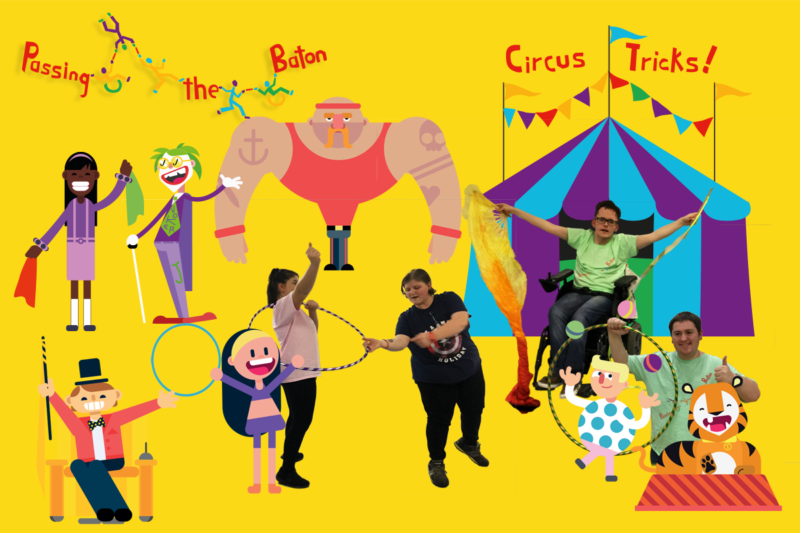 Youth Drama :
Tuesdays 6pm – 7pm at the Beacon Centre
Follow the link to AccessAble's website for an for an access guide to the Beacon Centre
Our Youth Drama Club is free and open to young disabled people and young people with learning disabilities aged 10 – 24 years, who wish to be creative and learn arts and drama skills.The Youth Drama Club explores creativity, imagination and team building. We play drama games, create art works and connect with performers and artists across DIY Theatre. Members will develop in confidence as they are encouraged to share their artistic skills through Drama, Music and the Arts.
This Term in Youth Drama Club:
We are very excited as our Youth Drama Club sessions are back in person! Which means plenty of drama games and lots of fun creative activities, exploring our imaginations and meeting new friends.
---
Arts Award
We offer the Arts Award Qualifications (Levels Explore – Gold) across Passing the Baton Youth Arts Programmes. Young people participate in a range of art forms, including Drama, Music & Circus which develop communication teamwork and collaboration skills.  Throughout the Arts Award journey participants reflect upon and develop their work; essential skills for further study & workplace opportunities.
Last year, in 2020, three young people achieved their Explore Arts Award with Youth Drama Club – partially completing their portfolio's whilst working remotely during Lockdown!
Congratulations to Eve, Georgia & Shay who each developed a Circus Inspired character, collaborated to write songs, make music & short improvised scenes. They worked with DIY Theatre Company members to learn about our performance piece 'Patient 36' and with professional circus company 'Poppins Presents'. Well done!
---
Circus Tricks!
Circus Tricks! is a Circus Inspired Music and Drama Project. It is aimed at children and young people with learning disabilities. Circus Tricks is a series of animated videos and a participatory activity pack that can be done with young people at home, in a classroom or in a youth club setting.
Take a look at the project here:  Circus Tricks Resource page
---
Thanks to You Can, our partner in delivery